JULY 2016: FASCINATING VISIT TO CANCER RESEARCH UK
The team at Ellis Winters & Co in St Ives are this year busy raising money for Cancer Research UK. Therefore, Associate Director, Anne Dellar and Director, Lisa Winters were both delighted to be invited to take a tour of the Cancer Research UK Cambridge Institute last week.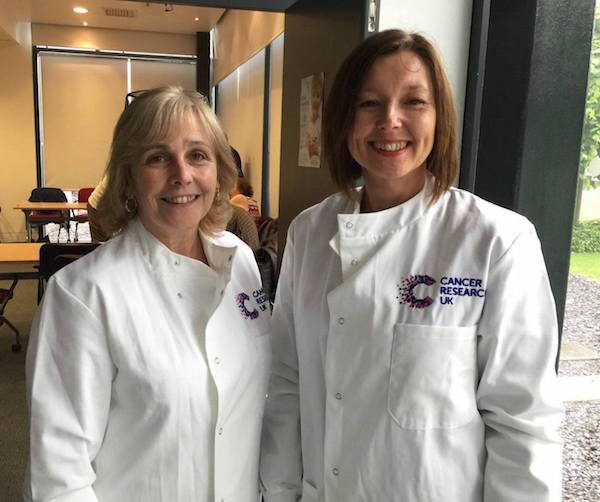 Explains Anne: "The Institute focuses on tackling questions relating to cancer diagnosis, treatment and prevention, supported by world-class core scientific facilities. As such, it was absolutely fascinating to hear all about the pioneering work the people there are doing to tackle this terrible disease.
"Lisa and I learned more about some of the recent break-throughs the Institute has achieved as well as understanding where and how the funds that the public raise are used. It was a very interesting afternoon and we're both very grateful to Bob Geraghty, Head of the Biorepository & Cell Services Core for taking the time to conduct the tour."
Concludes Anne: "I would also like to thank the Ellis Winters & Co team in Chatteris for donating their recent winnings from the town's window display competition to Cancer Research UK!"
JULY 2016: HOUSE BUYER EMMA JOINS ELLIS WINTERS & CO
When Emma Mott bought a house from team in Chatteris, little did she know that just weeks later she'd become our newest recruit!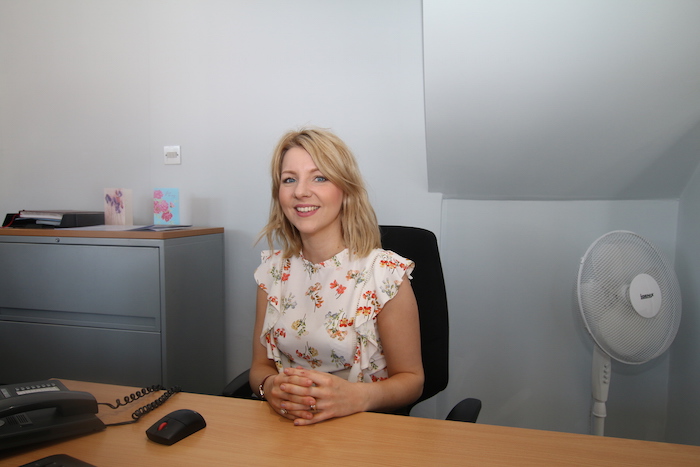 Emma, who hails from St Ives, and her husband spotted a house in Chatteris and decided it was just what they'd been looking for. But Emma was also in the process of selling her own house, with another agent, and was having a number of difficulties.
Explains Emma: "I needed to sell my house and ended up doing quite a bit of the work and negotiating myself. As a result, and because we were buying the house in Chatteris, I found myself in the Ellis Winters & Co office on several occasions so I was able to ask the team there for their help and advice. Everyone was so helpful and I really enjoyed spending time with them."
Adds Jan Townsend, director at Ellis Winters & Co: "Emma was clearly very competent and had a real grasp of the buying and selling process. When I said to her "if you ever want a job, pop in and see us" she did just that and now she's part of the team – we're delighted to have her with us."
Concludes Emma: "Over the last few weeks, I've been carrying out viewings at properties – I really enjoy that – and learning all about the sales process from my colleagues. I've been made to feel very welcome and I'm looking forward to my brand new career in estate agency. Buying that house has been a life changer in more ways than one!"
JUNE 2016: TEAM ELLIS WINTERS & CO GET IN THE CARNIVAL SPIRIT!
We got in the Carnival spirit this year scooping second place in Chatteris's window display competition and entertaining the crowds at the annual Chatteris Carnival.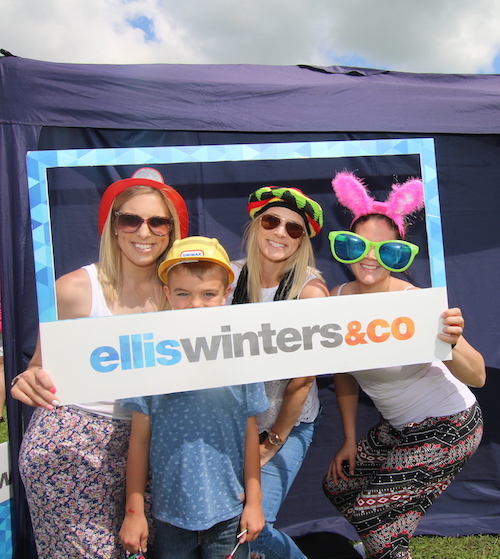 Tracy Raine and Debs Spencer were responsible for the our Olympic-themed winning window display. It's been a few years since we has entered the competition and the £20 prize money was donated to Cancer Research.
Explains Sue Davies, director at Ellis Winters & Co: "The window looked great and it was great to see so many people pass the office as the Carnival procession went by. We had lots of balloons to give to the children and all the adults got a copy of our Brazilian carrot cake recipe so we'd love to hear if anyone had a go at baking when they got home!"
On our stand, visitors were treated to rentals negotiator, Clarissa Duggan's special hula-hoop skills competition. Children and adults alike competed to see who could spin the hula-hoop the most times in one minute and two minutes respectively.
Max Smith won the children's prize of a £25 gift voucher and Nicola Gerken took the adult prize of a £50 gift voucher.
Many Carnival goers also had their photo taken, with funny accessories, in the Ellis Winters & Co photo booth. Copies of all the photos taken on the day are available from the Ellis Winters & Co office.
Concludes Sue: "The sun shone and we all had an absolutely brilliant day talking and laughing with everyone in the local community. A huge 'thank you' to our wonderful, friendly staff and in particular Tracy who organised everything and everyone, as usual! All proceeds from our stall will be donated to the Carnival committee."
JUNE 2016: BALLOON FUN AT MARCH SUMMER FESTIVAL
Independent estate agents, Ellis Winters & Co, got into the carnival spirit at this year's March Summer Festival in West End Park on Saturday by blowing up balloons!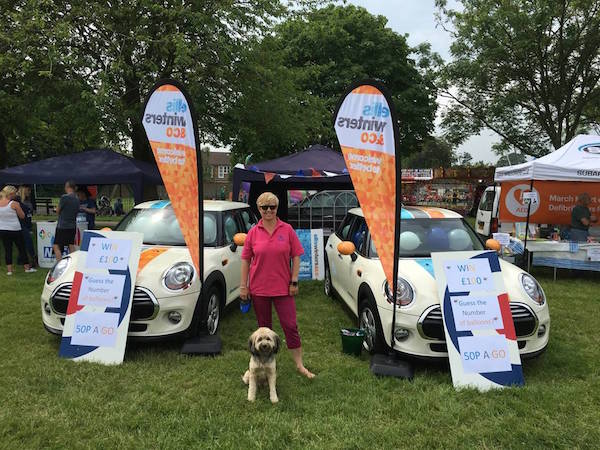 Explains Mike Ellis, director at Ellis Winters & Co: "Three of us – including my dog Lottie! – spent the morning blowing up 288 balloons and packing them into two of our company cars.
"We then invited festival goers to guess the number of balloons and to be in with a chance of winning £100 for the closest answer. We received guesses ranging from 22 to 999!
"Mrs Christine Sandford, who pinched £1 from her husband to have a go, was the lucky winner and our stall raised £122.00 which we will give to the carnival committee to help with future events in the town."
March 2016: AMY ADDS EXPERIENCE TO GROWING TEAM
23 year-old Amy Robinson has joined the growing team at Ellis Winters & Co in St Ives as lettings assistant.
Local girl Amy has three years' experience in lettings negotiation after heading into the property industry after leaving college.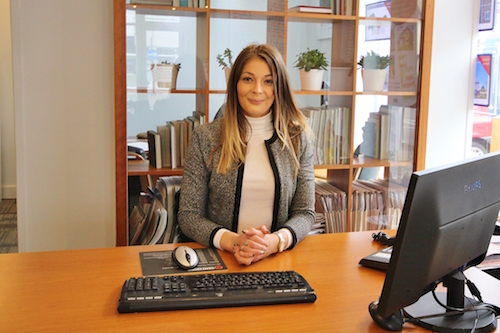 "As soon as I met with Ian and the team here I wanted the job," says Amy. "It's a really friendly and welcoming office and I already feel at home here after just a couple of weeks.
"It's fun learning all the aspects of managing a client's property well but a little daunting that every detail needs to be correct and customer service expectations are so high! On the whole it will be a great challenge and, with help from the team, I am looking forward to mastering the role."
Commenting on Amy's appointment, director Ian Winters said: "Due to increasing demand across both residential lettings and sales, we were keen to recruit someone who could hit the ground running and help out from day one. Amy fitted the bill perfectly and is working really well with the existing team. She's great with people and has the enthusiasm and intelligence we need to deliver the very best levels of service that people have come to expect from us."
February 2016: 'EASY SWITCH' SERVICE LAUNCHED
We have launched a brand new service specifically aimed at landlords who aren't satisfied with the current management of their property investment or portfolio.
The new service, 'Easy Switch', will enable disgruntled landlords to change their current agent with just one phone call.
Explains Mike Ellis, director at Ellis Winters & Co: "Over the last few months we've taken calls from numerous landlords who haven't been entirely happy with the way in which their property or properties are being managed.
"They've wanted to simply swap to a new agent but have been reluctant to do so believing it would cause hassle and disruption which they simply don't have time to deal with. So, for this very reason, we decided to launch 'Easy Switch' to offer a credible alternative and a really simple way to make the switch."
Continues Mike: "We specialise in residential lettings and have over 11 years' experience in managing properties – we currently deal with over 600 properties locally and pride ourselves on outstanding customer service for both landlords and their tenants.
"Any landlord using 'Easy Switch' to move over to us will see that the day-to-day management of their property investment is what we do best. From comprehensive inventories at the start of the tenancy, to final inspections and move out, we understand the importance of conducting your tenancy in a correct and legal manner.
"We are able to take care of everything under one roof – the accounts, arrears chasing, referencing, inspections, tax statements, rent increase negotiations, marketing and maintenance, we can deliver it all."
Concludes Mike: "We're all about enhancing customer experience wherever we possibly can and 'Easy Switch' is just one service we can offer that does just that. Call us on 01354 701000 and make the switch to maximise your investment."
January 2016: NEW RECRUITS IN ST IVES
We're very happy to welcome two new members of staff at our office on Whitehart Court in St Ives.
Corrina Saunders from Sawtry joins the existing team as sales negotiator and Clarissa Duggan from Chatteris, has taken on the role of assistant to the lettings manager.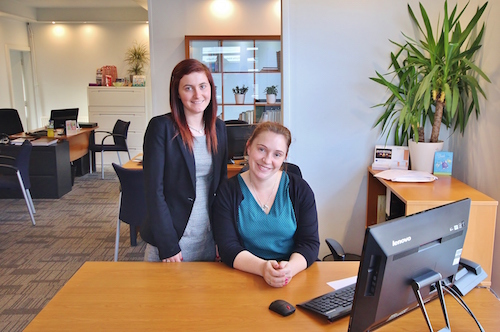 Working closely with the experienced team Corrina will focus on making sure no opportunities are missed and that our vendors receive the very best service.
Commenting on her appointment, Corrina said: "I've actually worked here every other weekend for the last year and I've thoroughly enjoyed it. So, when the opportunity arose to join full-time, I jumped at the chance.
"Previous jobs in nursing and at a local lettings agency have given me the ideal opportunity to develop my people skills and gain first-hand insight into the industry."
Adds Clarissa: "My mum works as a valuer in the Ellis Winters & Co office in Chatteris so houses were always a topic of conversation at home growing up – I think estate agency business runs in our blood!"
Added co-founder Ian Winters: "It's great to have Corrina and Clarissa on board. They're both very personable and have already built up a great rapport with our clients. Our focus has always been on delivering the very highest standards of customer service and Corrina and Clarissa are doing just that."
December 2015: COMPETITION WINNER'S DESIGN BROUGHT TO LIFE
Santa's elves have presented the winner of our annual 'Design a Christmas Card' competition with copies of the finished corporate Christmas card.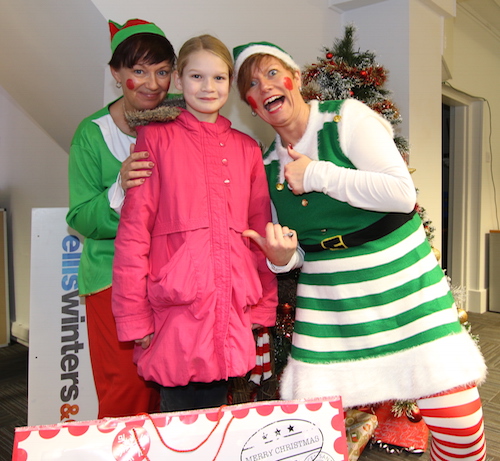 10 year-old Cleo Bailey's traditional snowman design was selected from hundreds of entries submitted by primary school children from Glebelands and Kingswood in Chatteris and Westwood in March.
Sue Davies, director at Ellis Winters & Co, presented Cleo, a pupil at Glebelands Primary School, with six copies of the company's Christmas card.
Commenting on the competition, Sue said: "We're over the moon with our cards this year and would like to thank Cleo and all of the other local children who took part – they worked really hard and we had great fun judging the entries."
October 2015: CHATTERIS STRENGTHENS GROWING TEAM
We've strengthened our growing team at Chatteris with the appointment of Katie Kupyn as sales negotiator.
Katie who hails from Chatteris and brings with her a wealth of experience in both estate agency and asset management after spending the last two years overseeing probate and housing association projects for a firm in St Ives. Prior to that, Katie worked for another local estate agent for ten years.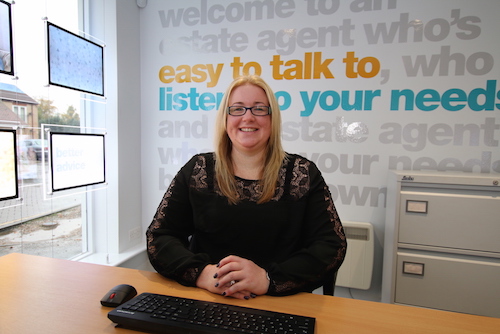 Explains Katie: "My background is in estate agency and it's what I love doing so it's great to be on board here in Chatteris with my new colleagues at Ellis Winters & Co.
"Working alongside the rest of the sales team, I'll be focusing on liaising with customers to ensure they get the very best possible service from start to finish. I'm a real people-person so I really enjoy this side of the job – helping people to successfully sell their house or buy their dream home gives me a real buzz!
"A typical day will include arranging viewings, dealing with offers and communicating with solicitors on behalf of my customers and I'm always available for a chat over the phone or in person at the office here in Chatteris."
Commenting on Katie's appointment, Jan Townsend, director at Ellis Winters & Co, said: "Katie is extremely knowledgeable when it comes to sales negotiation – she knows all the processes inside out and she has an excellent rapport with customers, something which is very important to us as a business. We're delighted to welcome her to the team!"
September 2015: NEW OFFICE IN MARCH NOW OPEN!
We're delighted to announce that we have opened a brand new office in the market town of March.
Located on the High Street, our latest branch has created new employment in the area and was officially opened on Friday 25th September by Mayor Rob Skoulding. At the same time, we unveiled our new corporate identity after spending the last five months working on a complete rebrand to take us to the next strategic level.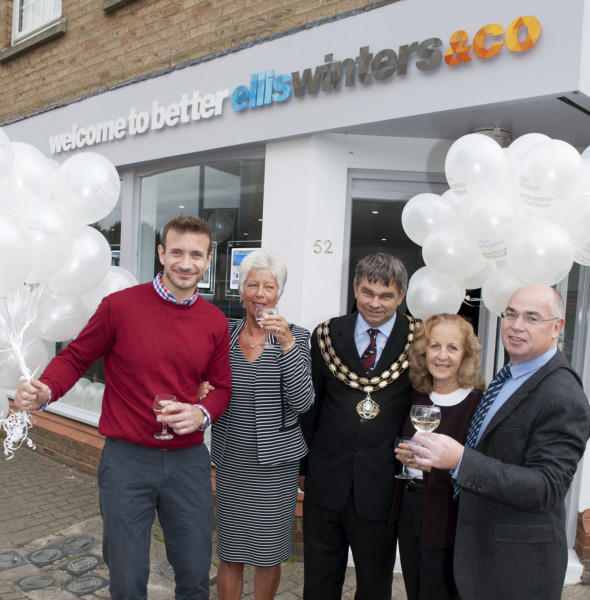 Commenting on the new office, one half of the partnership that founded Ellis Winters & Co back in 2001, Mike Ellis said: "Sourcing and opening an outlet in March has been a key part of our business plan for the last couple of years. So earlier this year, when the opportunity arose to take this particular property on the High Street in the town, we jumped at it.
"The location complements our two existing sites in St Ives and Chatteris. Having a direct presence in this area enables us to further enhance the service we already offer our customers by adding additional properties to our portfolio and extending our regional footprint."
Continues Mike: "Opening the new office also gives us the perfect opportunity to launch our new look and feel following an extensive rebrand. We've carried out comprehensive market and customer research and employed a professional design and marketing agency to create our new brand to encompass everything we've spent the last 14 years building.
"Our new strapline 'Welcome to better' epitomises what people can expect from Ellis Winters & Co at every stage of a purchase, sale, rent or let. Every single thing we do, we do to the best of our abilities and it's our exacting standards that set us apart from everyone else.
"From day one, we've focused on delivering bespoke customer service, because no two houses, or people, are the same. We assign each of our customers a dedicated member of the team to guide them through the entire process and do everything we can to ensure our clients have the best experience possible."
Concludes Mike: "Our new brand and regular marketing activity will help us communicate more effectively with local people who want to buy, sell, rent or let a property quickly and efficiently. It's a really exciting time for the company and the new office in March and our rebrand represent a milestone for our staff and customers alike – pop in for a chat and let us know what you think!"
September 2015: £730 RAISED FOR MACMILLAN WITH WORLD'S BIGGEST COFFEE MORNING
We've smashed our previous record by raising £730 following our annual 'World's Biggest Coffee Morning' to raise funds for Macmillan. Over 150 people popped in for a slice of cake, or two, and a cuppa at our office on Market Hill in Chatteris on Friday 25th September and made generous donations to support the fundraising effort.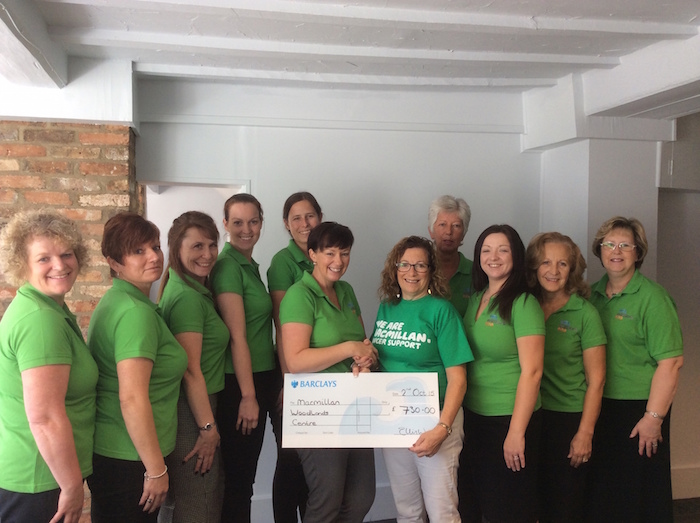 States organiser Tracy Raine, lettings negotiator with Ellis Winters & Co: "The sun shone, the cake table was full to capacity and so many of our clients as well as passers-by took time out of their day to join us for our best event yet!
"I thought we'd maybe raise around £300 but we'd already collected that amount by 11am and the donations kept coming all day and over the weekend, everyone has been so generous."
Jill Smith, chair of the local Macmillan fundraising team, collected the cheque from Tracy and the team and commented: "I'm delighted to accept this donation from Ellis Winters & Co from their recent coffee morning. The money raised will be used in the local area at the Woodlands Centre and on behalf of everyone there, I would like to thank all the staff for their hard work for a very good cause."
Concludes Tracy: "As usual, it was as real Ellis Winters & Co team effort as every member of staff got involved and baked a cake in support of someone they know who has had cancer. I'd like to thank everyone who came along to support us and hope they enjoyed themselves as much as we did – I can't wait for next year's event!"